Lýsing
The SubStation LC, HC and Axis build on the substantial achievements of the Substation Vogue and Qube with a new semi modular format and DC blocking as standard. Standing alone or in combination for even greater performance; they form a flexible, effective solution to satisfy the most demanding audiophile.
Each unit provides a different function, so you can upgrade your power supply as your system evolves without costly trade-ins or compromising performance.
They all share the same outstanding UK made build quality with a five year guarantee. PTFE insulated silver plated wiring, premium quality components and connectors are standard. All versions have DC blocking, a custom earth line choke to suppress noise on the safety earth, and surge and spike protection for peace of mind. The substantial all alloy, non magnetic, half width case allows two units to be placed side by side on a standard equipment shelf.
The SubStation Axis provides a more economical third option with the considerable benefits of DC blocking, but without multistage filtering. Where the mains waveform is not perfectly symmetrical in energy content a DC component will be present, this partially saturates the power supply's mains transformer. This can lead to acoustic hum and reduced performance from connected equipment. A high current version of the acclaimed ISOL-8 Axis circuit blocks any DC on the incoming mains. Four outlets supply a continuous current capability of 16A across the unit with a suitable mains connection. The SubStation Axis is eminently suitable for lifting the performance of all high end system components.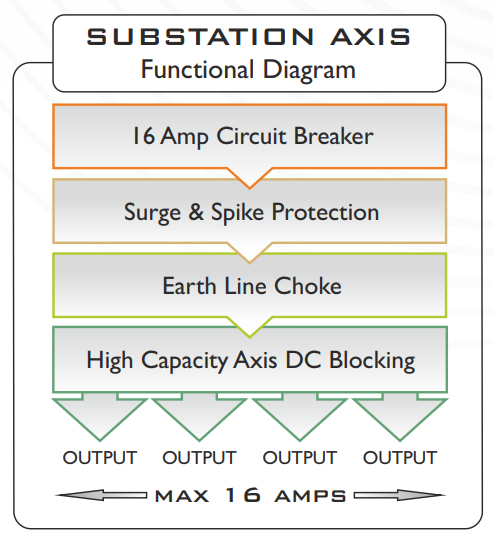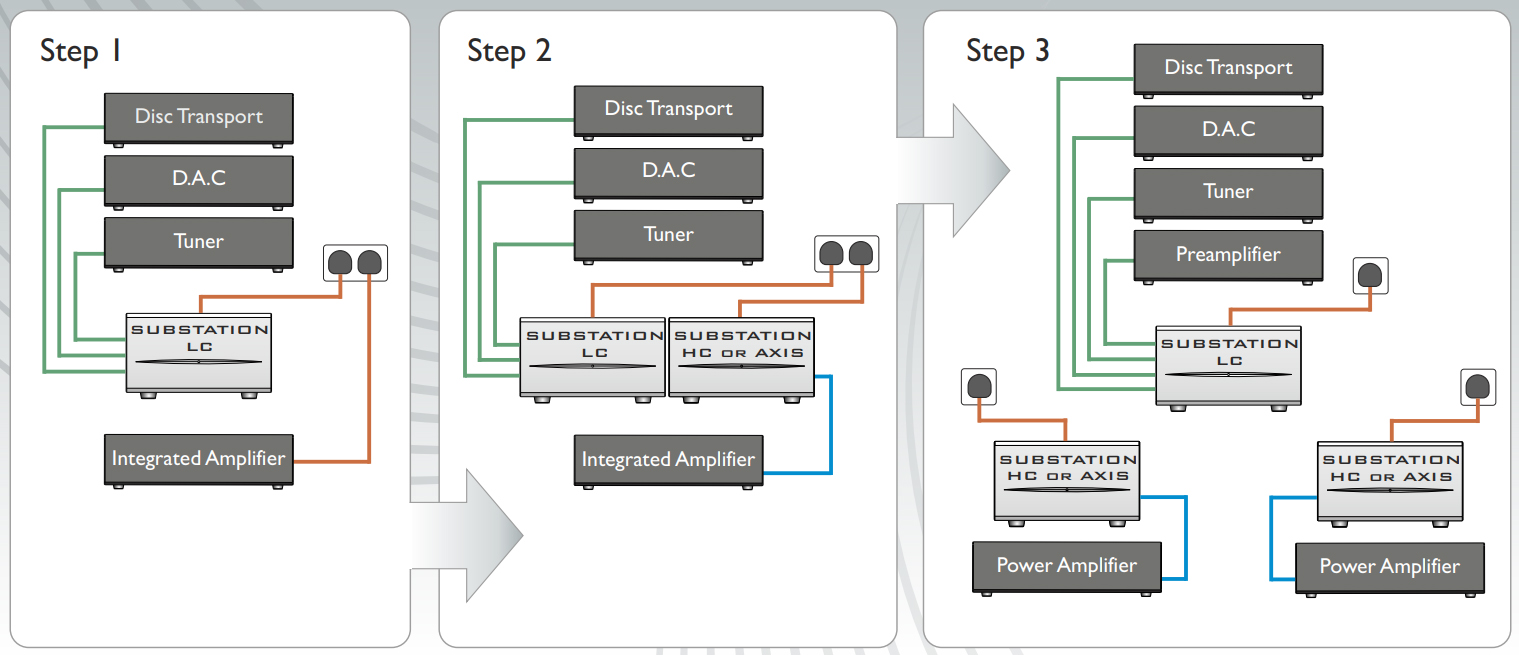 Number of available outlets: 4 Axis
Type of outlets available: Schuko
Power Input: Neutrik 20A powerCON
Construction: Aluminium chassis with Silver finish, Aluminium alloy panels
Mains Voltage: 230VAC version for 220-240VAC
Maximum continuous Current: 16Amps RMS
Protection: Rear panel circuit breaker
Dimensions (WxHxD): 232mm x 135mm x 420mm (excluding connectors)
Weight: 4.8Kg
Viðurkenningar