Lýsing
Every system needs a quality power supply to give of its best. PowerLine is a family of compact Power Distribution Units (PDU) that are designed to lift system performance, harnessing ISOL-8's power expertise at an affordable price. In combination with our range of IsoLink shielded mains cables, PowerLine offers a flexible but powerful solution tailored for those who put performance and value first.
All versions feature an anodised 6mm thick CNC'd aluminum top plate. This forms an ideal mechanical foundation: non magnetic and non resonant. Input is by IEC connector with a Neutrik PowerCon an option on many variants. Each high quality power outlet has a hinged cover to IP54, protecting unused outlets from dirt, dust and little fingers. Wiring is carefully selected silver plated copper with PTFE insulation throughout, providing excellent power transmission properties, reliably supplying your system for years to come.
The PowerLine Ultra is fully power conditioned and optimised for audio. One Direct Connection outlet is provided, filtered by a high current shunt filter, and is suitable for loads such as amplifiers. The remaining outputs are for source components and benefit from ISOL-8s Transmodal filter technology. Noise in mains wiring can be transmitted and induced in many ways, some are easier to deal with than others. As a result, many power conditioners are not completely effective. ISOL-8s Transmodal filters effectively attenuate all modes of transmitted and induced mains noise, so you can be sure that your system benefits from the cleanest possible power.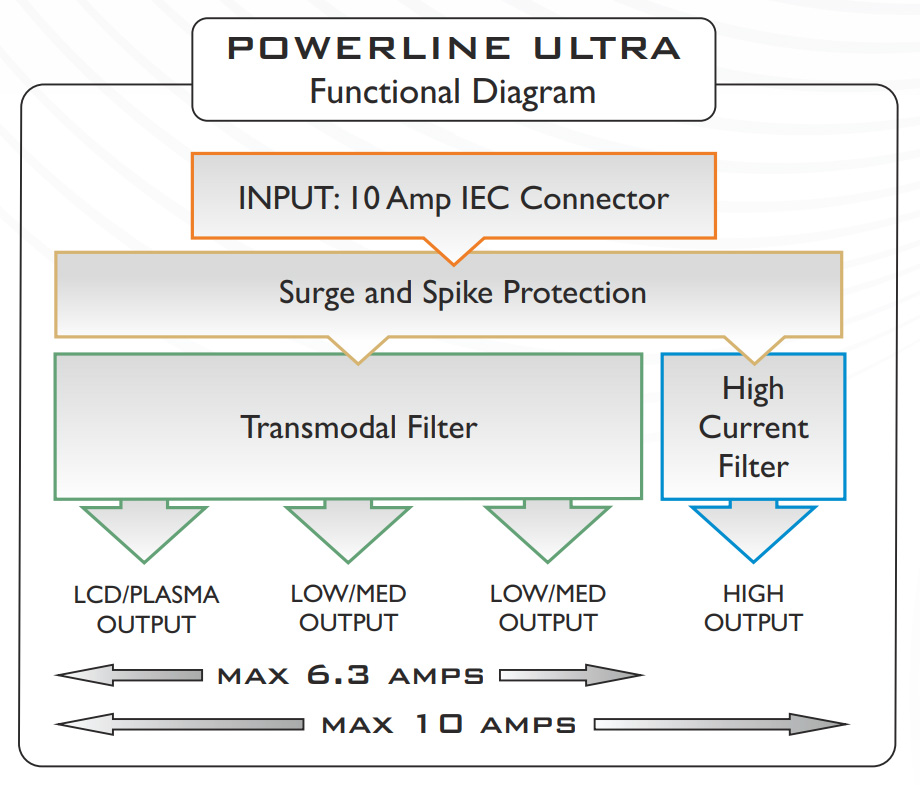 SPECIFICATION
Number of available outlets: 4 or 6 Way
Type of outlets available: European Schuko
Standard Mains Inlet: IEC fused socket
Construction: Aluminum top plate "titanium" anodise. Powder coated steel chassis
Mains Voltage: 230VAC version for 220-240VAC
Maximum Current: 10A maximum (IEC versions)
Dimensions (WxHxD): 400 x 83 x 88mm excluding connectors
Product Weight: 2.3Kg