Lýsing
The PMC6 is packed with innovation and providing the same sonic signature as our renowned larger monitors, it's ideal for smaller control rooms or for use in larger immersive systems, where its astounding resolution allows critical mix decisions to be made with absolute confidence.
With 20mm of excursion, the bespoke 6-inch bass driver is designed specifically to integrate with our latest ATL™ bass-loading and Laminair™ airflow technologies. The combination outperforms most 8-inch monitors, offering unparalleled bass extension, headroom, dynamics, and low distortion at all levels. The high end is courtesy of a one-inch precision-built fabric soft-dome tweeter, with a shallow waveguide that creates wide, tonally consistent dispersion and rock-solid imaging. Both the bass and treble drivers are precisely and individually controlled by a pair of 200W ultra-low-distortion, high-damping-factor Class-D amplifiers.
Whether in portrait or landscape placement, the PMC6's sophisticated DSP engine automatically adjusts the crossover, ensuring optimum tonal accuracy, phase and imaging.
The monitor can be calibrated using the rear-panel controls or with PMC's intuitive browser-accessible SoundAlign™ software.
The PMC6 can be upgraded by adding a PMC8 SUB to create a full-range, free-standing PMC6 XBD system. Activating the 'XBD' DSP mode ensures the perfect marriage of the two units, creating a clean LF extension down to 25Hz.
Active 2-way nearfield reference monitor with ATL™ bass loading
Frequency response: 39Hz – 25kHz (- 3dB @1m full space, on-axis)
Max. cont. SPL: 106dB @1m (half space value calculated as +3dB from full space measurement.
Un-weighted input,20-20kHz Pink Noise (IEC) with 12dB CF for 2 hours AES2-1984 duration)
State-of-the-art Class-D amplifiers: HF 200W, LF 200W
Analogue/AES3 digital input (16/24-bit, 18 -192kHz sample rate)
Digital 'through' output (AES3 24-bit 96kHz)
SoundAlign™ network control interface for single or group EQ & settings
Sophisticated DSP crossover, driver protection, EQ, and delay/polarity options
Automatic portrait/landscape placement DSP correction
PMC6 + PMC8 SUB creates PMC6 XBD, with LF down to 25Hz
Ceiling-mount yoke allows suspension in multi-channel or immersive systems
Hear what Steve Genewick, Nick Reves, David Rideau, Jonathan Wales, Warren Hunt & Deezle have to say at the Pre-Launch Event at Just for the Record Studios, LA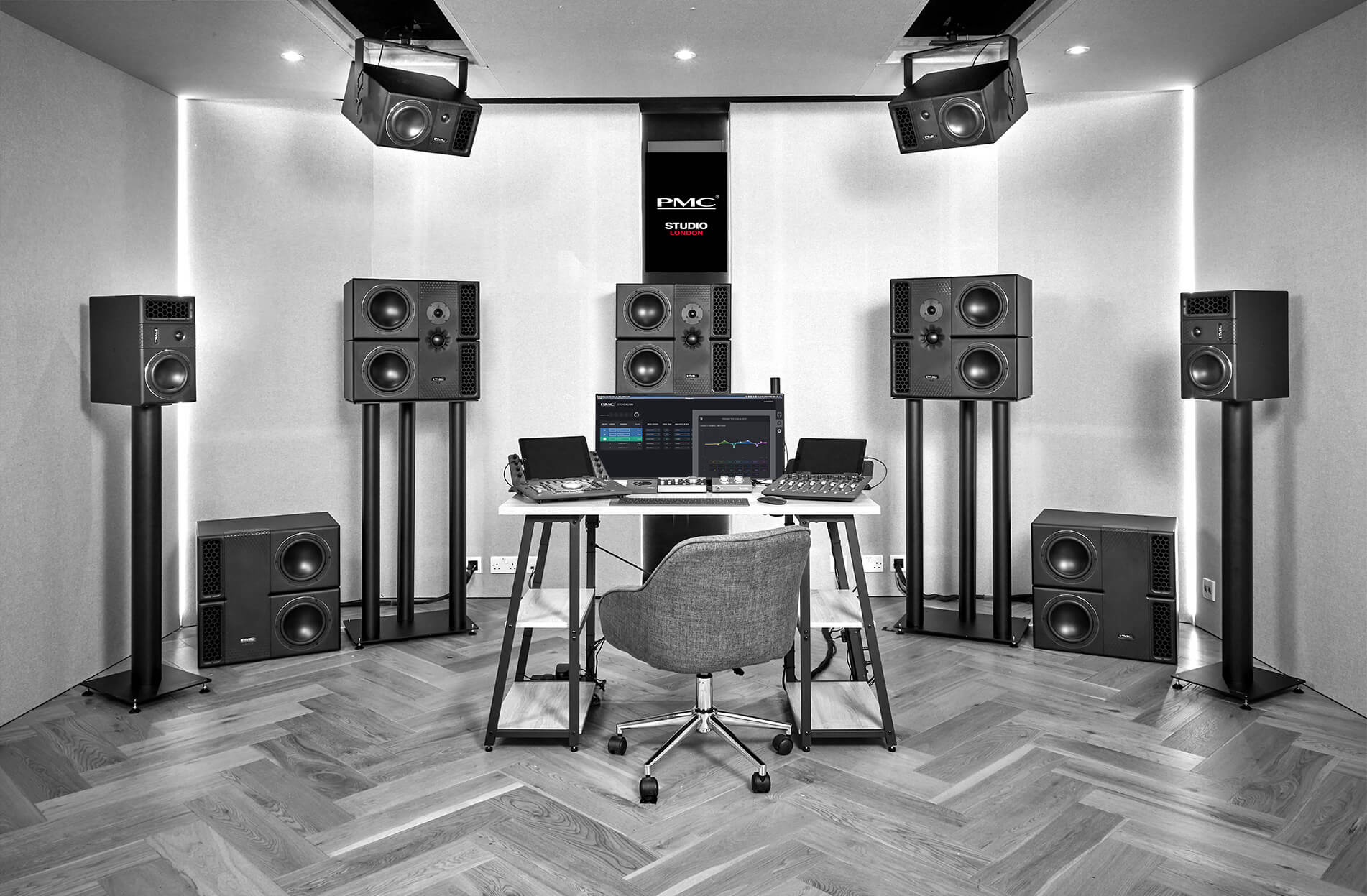 One of the keys to our legendary natural, uncoloured sound is our Advanced Transmission Line (ATL) bass-loading. ATL uses energy generated by the bass unit in a much more intelligent and efficient way than speaker designs based on ported or sealed boxes. Our Laminair airflow technology further enhances ATL and improves definition, timing and eradicates unwanted air noise.